The Sea Scape welcomes
you
A Fine Family Boutique in Wildwood Crest – A One Minute Stroll to the Beach.
               Early Check-In, Late Check-Out* – Cash on Arrival* – Heated Pool close at 10:30 pm
Free WiFi – Great Reviews – Clean Smoke Free Rooms – Note: These Rooms Sell Out Quickly
*Conditions Apply
You're gonna love it here !
There are many Hotels in Wildwood NJ and Hotels in Wildwood Crest.  There are Motels in Wildwood NJ and Motels in Wildwood Crest NJ.  The Sea Scape Inn will be your favorite Wildwood Crest Motel.    A wonderful family destination for your relaxing fun filled vacation. A great location across the street to the beach and oceanfront playground for the children, a quick walk to the boardwalk, or to the bay and just 6 minutes to Victorian Cape May.
We offer a comfortable nights sleep in a clean- non-smoking room that is well maintained. Choose between our very nice "Two Room Suite plus a Kitchen" which can sleep up to 4 Adults & 2 Children or try a Deluxe Guest Room or Guest Room with Outside View of the Ocean, which sleeps up to 2 Adults & 2 Small Children.
Suites and Guest Rooms include: private bath,  Heat and Air, Free WIFI and Daily Maid service . Enjoy the view from our tropically shaded deck. Also heated pool, BBQ and each guest has free off-street parking, free Morning Coffee In-Room and Disc Player upon request,
Guest Laundry is available.
The Sea Scape Inn is adjacent to oceanfront children's playground, full size basketball courts, bike rentals, bike path, and restaurants.
Most of our guests are return visitors, which really attests to the service we provide, and the quality of their stay!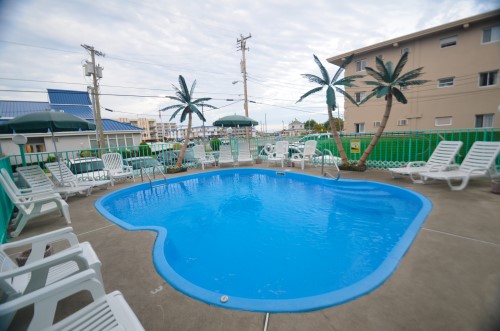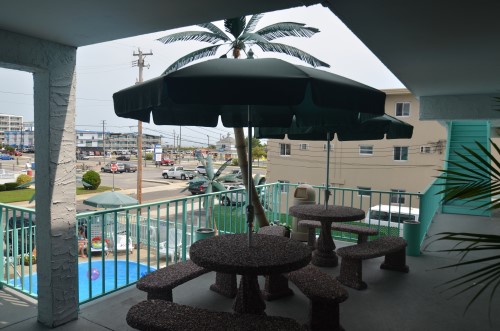 In the Wildwoods, you can do as much, or as little, as you like. There's 5 miles of FREE white-sand beaches and 38 blocks of boardwalk excitement with rides, waterparks, shopping and arcades, plus great dining and nightlife. Everything you could ever want in a family vacation is right here.
Wow, just WOW!
We had a fantastic stay on The Crest. The Sea Scape is beautiful, easy parking, pristine rooms, wonderfully clean pool, friendly staff and quiet. Alosi's Bistro across the street at the Pan American is awesome! The Boardwalk is two blocks away and the beach is across the street. We could not have asked for better! Thanks to all! We will be back. ❤️
Great Midweek Getaway
We wanted a couple of nights down the shore, and Sea Scape was perfect. Room inviting and well maintained. Everything worked. Took a dip in the pool that night during "quiet swim." Beautiful, clean pool. Staff courteous and eager to help. Maid service was good. We would go back.
Annual Family Vacation
We just returned from our 6th trip to The Sea Scape and I have nothing bad to say! Every year we go there are more upgrades done (this year the couches)! The staff is extremely friendly and always willing to get anything needed. The owner Chris is so kind and absolutely wonderful! I don't have anything bad to say and we will be returning next year!
Google Tour of the Sea Scape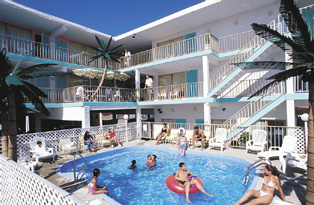 Send us a message using this form.
Or call 609.729.2200
*see our policy for details